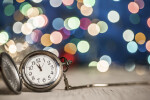 2020 is about to arrive... begin the New Year with worship!
Be with us at Harvest Time as we worship together at 6:00 PM. It's the perfect way to give thanks together for all the blessings of 2019 and then look with faith into the New Year of 2020!
During the service, we will receive Communion together, and there will there will be an opportunity to receive personal ministry.
Childcare will be provided for children younger than Kindergarten.