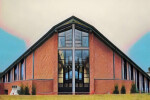 We're dedicating our building in a grand celebration of worship across four days and nights, beginning Thursday, September 20th, and running through Sunday, September 23rd!
Don't miss the excitement as we welcome special guest speakers and former Harvest Time staff members. The weekend culminates in our very first Baptismal Service in the new Sanctuary on the night of the 23rd.
Be sure to join us for these special services and events!
➤ Thursday, Sept. 20, 7 pm
Prophetic Ministry with Pastor Judy Shaw
Worship with Pastor Dan Macaulay
➤ Friday, Sept. 21, 7 pm
Dedication Service and Reception
➤ Saturday, Sept. 22, 10 am
Reunion Breakfast with Pastor Ray and Patti Tate
➤ Saturday, Sept. 22, 3 pm
Community Open House and Tours of the HTC Facility
➤ Saturday, Sept. 22, 7 pm
Healing Service with Pastor Raymond Mooi
Worship with Pastor Jason Gregori
➤ Sunday, Sept. 23, 9 & 11 am
Worship Services
Installation of Pastor Kurt and Vivi as HTC Youth Pastors
➤ Sunday, Sept 23, 7 pm
Water Baptism Service with Pastor Raymond Mooi
Worship with Pastor Jason Gregori