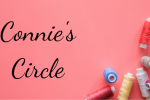 Be a part of Connie's Circle!
Connie's Circle is a sewing ministry designed to serve the church and later the wider community. You can develop your skills, become able to earn extra income, and help us offer services to the community. All are welcome!
Registration will run from 10:30 AM to 11:00 AM.