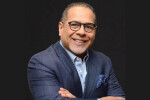 Harvest Time is pleased to welcome Chaplain Willie Alfonso on the weekend of June 2-3 to minister at our monthly Men's Breakfast and in our Sunday Services. Don't miss this powerful and inspirational speaker!
Willie was born and raised in Brooklyn, the product of an abusive and alcoholic father. At the age of ten he was forced to leave home when his mother chose to turn him away after he defended her during a beating from his then crazed and drunken father. Willie spent his teenage years living with relatives, friends and on the streets of Brooklyn. He turned to drug use early on and continued destructive habits into his young adult years.
In 1972, at the age of seventeen, he married his wife Nancy and continued to abuse drugs until Palm Sunday, 1981 when he received Jesus Christ as his Lord and Savior. In 1996 he and his wife felt called into full-time, inner city ministry. Willie began working with teenagers in a sports ministry where hundreds of young people came to Christ.
Willie now serves as Chaplain to the Brooklyn Nets and Chapel Leader for the Staten Island Yankees and the Hispanic players of the New York Yankees.
He is the author of the book, It's A New Beginning: How to Turn Setbacks Into Comebacks.