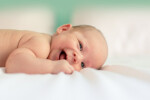 The next baby dedication is Sunday, October 2nd at 11:45 am. There will be a baby dedication class Sunday, September 25th at 10:00 am for all families participating, in the Music Room downstairs.
At Harvest Time Church, we count it a privilege to assist families in dedicating their children back to the Lord. This dedication ceremony does not impart faith or forgiveness of sins to a child. Rather, it's an opportunity for parents to publicly acknowledge that they recognize their child is a gift from God to them. In the dedication ceremony, parents enter into a commitment to do the following, with God's help:
Provide a Christ-centered home
Live before their child as examples of godliness
Train their child in the reverence and instruction of the Lord
Teach their child the Word of God
Guide the godly development of their child's character
Instruct their child about salvation through faith in Jesus Christ
Encourage their child to one day trust Jesus as his or her Lord and Savior

In order to help us properly prepare for your child's dedication ceremony, please begin to register and fill out the questionnaire.
Thank-you, and God bless!