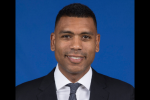 On Sunday, June 2nd, Harvest Time welcomes Allan Houston as he shares in our Sunday morning services (9 AM and 11 AM) and introduces his brand-new book, The Fundamentals of Life: Life in 3D!
Olympic gold medalist and two-time NBA All-Star, Allan Houston, conceptualized FISLL (Faith, Integrity, Sacrifice, Leadership, and Legacy) based on principles learned from his parents and other models of leadership in his life. Through The Fundamentals of Life, he aims to share the keys that helped him grow as a student, an athlete, and most importantly, a son, father, and community leader. These life principles serve as a foundation for a healthy mind, body, and spirit, the essential needs for a Life in 3D.
The Fundamentals of Life: Life in 3D is available online and at retailers nationwide.
About Allan Houston:
Allan Houston is a senior advisor to the general manager of the New York Knicks. Currently in his 10th season as a member of the Knicks' front office, Allan has served as the general manager of the Westchester Knicks since the team's inception, overseeing all operations of the NBA G-League affiliate.
A consummate athlete, Allan is a two-time NBA all-star with a 12-year playing tenure with the Detroit Pistons and New York Knicks. Leading up to his 2005 NBA playing retirement, Allan remained a key player for the Knicks, helping to lead the team to its 1999 Eastern Conference Championship. He is currently fourth among all-time Knicks for career scoring, second in three-point field goals, and third in free throw percentage. Allan was also a member of the gold-medal winning U.S. Men's Basketball team at the 2000 Summer Olympics.
Allan's impact extends beyond the court through the Allan Houston Legacy Foundation and The FISLL (Faith, Integrity, Sacrifice, Leadership and Legacy) Project, which serves underserved youth, families, and communities nationwide through its strategic partnerships, coaching clinics, fatherhood support services, and family programming. He received the President's Council on Service and Engagement Award from the Obama Administration and earned his Bachelor of Arts in African American studies from the University of Tennessee. Allan and Tamara, his wife of 22 years, have seven children.