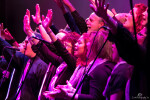 RSVP here for Adult Choir: http://bit.ly/HTGFChoir2020
====================
Our Good Friday Adult Choir will hold its first practice Thursday, February 13th in the Music Room downstairs at 7 PM.
Share the word with friends... anyone who hasn't been in the Choir before is invited to come and try out. Past Choir members are always welcomed back!
The Choir will perform on Good Friday, April 10th, and anyone who is available is also invited to join us to sing on Easter Sunday morning, April 12th. Practices will be on Thursday evenings through April 2nd. Dress Rehearsal with the Worship Band will take place on Wednesday, April 8th.
Please click the link above to RSVP!