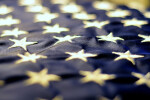 Friday, September 18th begins 21 days of fasting and prayer for America!
Please join us at our Fire In The Night Service on Friday the 18th, from 6 PM until midnight.
Then, starting Saturday the 19th, we'll gather in the Sanctuary for prayer every morning at 7:00 AM. Join us live or online at www.htchurch.tv. We'll also be making daily scriptures and prayer points available online.
Be with us as we unite in prayer for our nation!