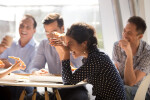 Don't miss the Life Groups Expo after each service on Sunday, January 5th!

An exciting part of our 20/20 Vision is that we would grow more connected to each other. One of the ways you can do that is by signing up for one of our Life Groups! On Sunday, January 5th, after each service, come to our Life Groups Expo and explore the many wonderful options we have for you to grow in friendship and in faith. We're offering prayer groups, study groups, freedom groups, and interest groups of many kinds.
At the Expo, you can meet group leaders and learn more about the purpose and the flavor of each particular group. A new semester of Groups begins on Sunday, January 12th, so get ready by coming to the Life Groups Expo on January 5th – it's the perfect chance to get connected to a group that's right for you!