Book Study: Live Not by Lies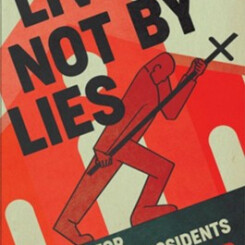 Description
Rod Dreher (2020) Live Not by Lies: A Manual for Christian Dissidents.
On the day of his Moscow arrest—(after having served 14 years in the Russian camps) Aleksandr Solzhenitsyn published what would be his final message to the Russian people before the government exiled him to the West. In the title of the exhortation, he urged the Russian people to "live not by lies!
As we work out way through the book, putting the suggestions of the book into practice, we are shown how to continue our culture and religion when under severe situations. The support of the group helps each person focus on something they need to do which has not yet been accomplished. Each participant brings their ideas and information to the group.
All are welcome. Copies of the book are available. Tuesdays at 7 pm