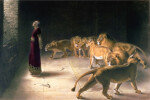 On Wednesday evenings at 7 PM, join us for The Daniel Dilemma! Christians today wrestle with their stance on contemporary issues including politics, gender identity, and marriage. In a world that rejects everything we believe, we face a dilemma: how do we walk closely with God without caving in to pressure or alienating those we want to reach?
In a six-session video Bible study, author and pastor Chris Hodges explores how we can stand strong, stay engaged, love others, and do good in the ever-shifting ungodly culture around us. Learn how to be influential without compromising your values… keep God's standards high and his grace deep, just as Daniel and Jesus did!
Each Wednesday evening, we'll meet for worship, a brief video session, small group discussion, prayer, and refreshments. Even if you haven't been in the Wednesday night habit, you'll enjoy the good fellowship and learning how to sharpen your witness in a world that needs your unique, God-given gifts and talents.
Our journey begins Wednesday, January 9th, at 7 PM. Join us on the Lower Level, in the new Fellowship Hall!