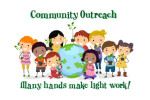 Sunday School Parents:
Our current unit of study is "Love Thy Neighbor," and we're teaching our kids the importance of loving our God with all our heart, soul and strength and applying it to loving our neighbor!
As a culminating project for this unit, we are planning a family and Sunday School class outreach to our community.
Date: Saturday, June 2nd
Meeting Time: 10 AM
Place: Harvest Time, Lower Level
Events:
K-2nd Grade will visit the Greenwich Woods seniors and make a craft/read short stories.
3-5th grade will clean up and plant in one of our local community gardens, location TBD
Please RSVP to Rosanna if you and your child/family will participate in this local community outreach.