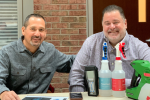 Join us Sunday at 10:30 AM for a special presentation by our friends Steve Anello and Lou Bastone from Viking Pure! Steve and Lou will be sharing about the powerful Viking Pure technology that creates safe and effective cleaners and sanitizers.
This technology is already at use at large establishments you're familiar with, such as Neri's Bakery (see YouTube video here) and at WestMed Medical Group (see YouTube video here), among others.

Steve and Lou have graciously blessed HTC with a Viking device that can make unlimited amounts of these products for our use (and yours!) at the church.

Meet us in the Sanctuary this Sunday at 10:30 AM: learn how to use these products for yourself and learn what HTC is doing to keep our facilities clean and safe for all.