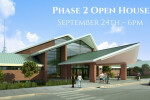 SUNDAY EVENING at 6 PM, join us for an evening of beautiful music, appetizers, fellowship, and an opportunity to contribute towards furnishing and equipping our new church home!
Click here to see our VIEW BOOK to acquaint yourself with some of the finishes, furnishings, and fixtures that our design team has selected for Phase 2. Be sure to click "fullscreen" if necessary.
If you're unable to join us on Sunday for our Open House Event, please click here to give securely online!