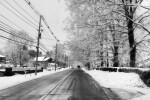 HTC Services Online Only on Sunday, February 7th!
Due to the impending snow storm and out of an abundance of caution, we are redirecting all of our in-person Sunday services to our online YouTube experience.
Starting at 8:30 am we will be live streaming our Sunday service on our Harvest Time YouTube page at www.htchurch.tv, then again at 10:00 am and 11:30 am.
We will be taking Communion at the end of our service and if you would like to receive with us, please prepare your Communion elements. We look forward to seeing you during the week as we resume our normal mid-week schedule across Harvest Time Church.
Stay safe and God bless!