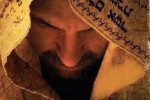 Be with us as we launch our sermon series for Lent, "The Last Days of Jesus," beginning on Sunday, February 18.
Join us each Sunday as we walk with Jesus through the days of the Passion Week. We will look at how Jesus spent the final six days of His earthly ministry, leading up to the Cross and Easter Sunday.
Each message will be about Jesus, and there will be an opportunity each week for people to believe on Jesus. This is a great time to invite your family members, friends and co-workers!
For regular updates, Bible readings, and more information as we take this journey together, join our special Last Days of Jesus Facebook group by clicking here.