Contact:
Pastor Ruth Diaz serves as our Prayer Pastor. Read her biography below.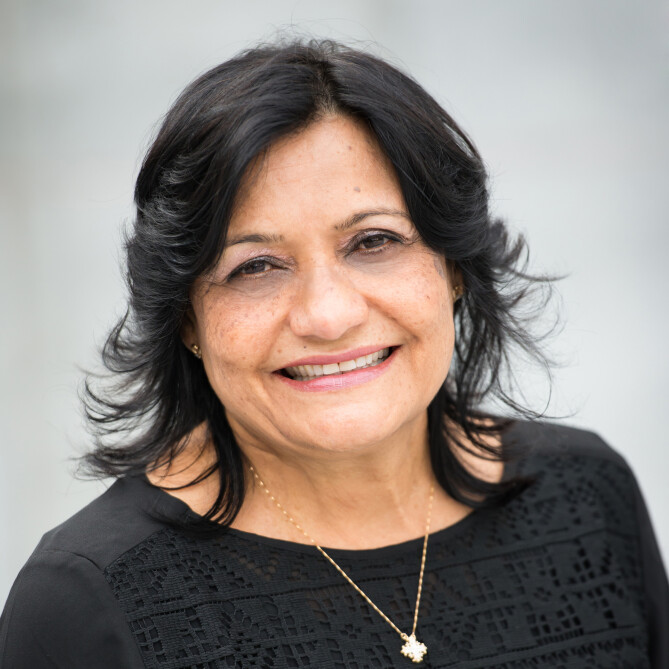 Biography:
I was born and raised in the beautiful island of Puerto Rico, the youngest of nine siblings, and blessed with Christian parents. My father, a pastor and minister of the Word for over 50 years, set a godly example of servitude, and instilled in me a passion for God, His Word, and His kingdom.
Upon earning a Bachelor's Degree in Psychology at the University of Puerto Rico, I moved to New York to pursue a Master's Degree in Education at New York University. I was blessed to receive a scholarship from Columbia University for a Doctorate in Education. In prioritizing all my responsibilities, I was halfway into it when I chose not to continue. In 1976, I graduated with a degree in Theology and Pastoral Care from the Assemblies of God Bible Institute. There I met my husband Mario, and got married in August 1978. The Lord blessed us with two beautiful girls, Libna Kadesh and Beth Yireh. Beth was born with cerebral palsy and is severely physically and mentally disabled. She is an oasis of peace; with her beautiful smile she has inspired many to come into God's kingdom. Libna's heart is worship, singing and playing the piano, her passion. She is married, and blessed me with a precious granddaughter, my Aleah Joy.
From a very young age I knew there was a calling for ministry in my life; so did my husband. We were credentialed with the Spanish Eastern District, Assemblies of God before we got married. Following the Lord's call for our lives, in 1987 we went on to pastor Christian Church "120" AG in the Bronx. We became ordained ministers in 1995 and pastored the church for 14 years. Although in full-time ministry, we both pursued secular careers. I taught in the New York City public school system for thirty-four years, and my husband was a Real Estate Broker. In October 2001, my husband went home to be with the Lord. Knowing that my calling is not to be a Lead Pastor, I pastored the church for one more year, and then resigned.
In 2002 we moved to Ossining in Westchester County, NY and joined Fountain of Eternal Life Church, AG in Mount Kisco. I served as an Associate Pastor for nine years. In 2007, I retired from my teaching career to finally do what I longed to do for so long: work solely for God's Kingdom.
Not fully understanding God's plan, yet following His lead, in 2010 I joined the Harvest Time Church family. In October 2012, I was humbled and honored to become the Prayer Pastor. My vision is for Harvest Time Church to become a constant praying church; for all to experience that prayer is enjoyable and sustainable. My mission is for every harvester to become a prayer warrior. To that end, we train and equip in prayer on a weekly basis. We also encourage our friends to join the Prayer Meetings in the weekdays, and the Prayer Room Intercession on weekends.
My life is to serve and my passion is prayer. As David, I want to "serve God's purpose in my generation," leaving a prayer legacy for generations to come.
Favorite teachers/authors/preachers:
Mike Bickle; Allen Hood; John Piper; Michael Brown; E. M. Bounds; Larry Randolph; and, Leif Hetland.