NOTICE REGARDING SERVICES:
Due to the current health situation and the Governor of Connecticut's Executive Order, we are unable to have public worship services at this time.
We invite you to watch our live stream as we broadcast Sunday mornings at 9 AM and 11 AM. All you have to do is click the tab at the top of the page that says "Watch."
Services and news updates will be rebroadcast on our website, as well as on our Facebook, on our YouTube channel, and other social media platforms.
For help in accessing our media, please reach out to us at , or call the church office at (203) 531-7778.
=================================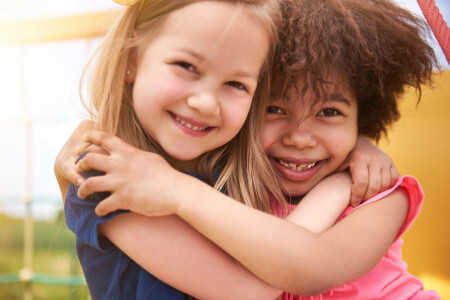 Dear Parents and Guardians,
Please make note of our current schedule.
9:00 AM:
• HT Kidz (Grades K through 5)
• Preschool (Ages 3 & 4)
• Toddler Nursery
• Infant Nursery
9:30 AM:
• Middle School and High School students will be dismissed from the Sanctuary to their small groups
11:00 AM:
• HT Kidz (Grades K through 5)
• Preschool (Ages 3 & 4)
• Toddler Nursery
• Infant Nursery
~~~~~~~~~~~~~~~~~~~~~~~~~
About our Children's Ministries:

Harvest Time's Children's Ministries helps kids take important steps in their spiritual journey!
Whether it's one of our Sunday morning gatherings or during our mid-week children's programs, our loving volunteers are prepared to give of their time and God-given talent to create a safe and fun environment for kids. Here's a snapshot of what Harvest Time offers:
Babies (Infants through Age Three)
Harvest Time's well-baby program provides a safe and peaceful environment for little ones. Our Infant Nursery is for babies who are not yet steady walkers. Nursing mothers may make use of the Infant Nursery while enjoying the worship service via telecast. Our Toddler Nursery provides a nurturing environment for steady walkers through age three. Nursery is available during all service times.
Preschoolers (Age Three through Kindergarten)
At Harvest Time, preschoolers get a wonderful experience with dynamic teachings, worship, scripture memorization and group activities that reinforce the lessons. Preschool Ministries are available during all service times, including the mid-week gathering.
Elementary-Age Children (Kindergarten through Grade Five)
Children in grade school are offered a variety of opportunities to grow in their spiritual journey. During our weekend services, large and small group settings are available through Children's Church and Sunday School. Our Wednesday evening scouting programs devote their efforts to mentoring boys and girls. Through the motivation of outpost and club meetings, badges and awards, activities, crafts and games, Jesus Christ is introduced and young lives are trained and encouraged to follow Him.