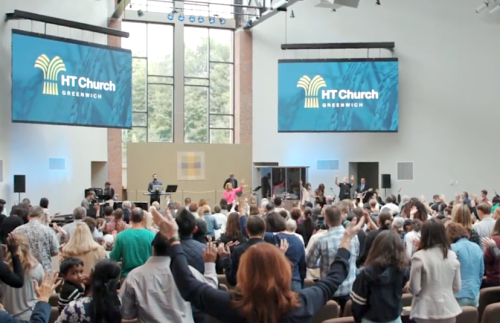 Sunday morning worship in our new Phase 2 Sanctuary. Drawings of our Phase 2 building are © 2009 Swanke Hayden Connell & Partners LLP.
To see additional images of the Phase 2 plan, please click here.
Videos from our XLR8 (Accelerate) Campaign may be seen below.

Ready, set, accelerate!
So the wall was finished in just 52 days, for this work was done with the help of our God. (Neh. 6:15-16)
In 1997 Harvest Time Church was meeting at the Western Greenwich Civic Center in the Glenville section of Greenwich. Over 14 years in that facility our congregation had grown to approximately 300 people. Early that year we received notice that the Town had cut funding to the Civic Center and that closure of the building was imminent.
Under the leadership of Pastor Glenn, a building search committee set out to find a permanent home for Harvest Time. The plan was to purchase an existing building and renovate it for the church's use. Over the next few months the committee looked at a variety of properties - a vacant bowling alley, a nursery, and retail and office buildings. Each time, the committee ran into the same set of obstacles: none of the properties had a space large enough to be transformed into a sanctuary; none had adequate parking; none had enough excess land for future expansion; and many of them were priced far beyond the reach of our congregation.
Finally, the committee determined that the church needed to buy land and build a facility to serve our current and future needs. The committee composed a "cold call" letter to property owners in Greenwich with parcels of 10 acres or larger. On Sunday morning, February 1, 1998 the congregation gathered to lay hands on almost 300 letters piled up on the altar. Together, we prayed for God's guidance and favor. A few days later we received our only response . . . from the owner of 1338 King Street!
With the new church property under contract, a building committee was formed to design Harvest Time's new home. Although our property was spacious, the Town zoning regulations limited us to just 28,500 square feet of finished space. Even basement rooms counted against the square limits if finished. Working with our professional team we designed a sanctuary that would seat over 600, an oversized foyer which could double as a fellowship hall, and an education wing of classrooms and offices. A partial basement was planned under the education wing for mechanical, maintenance and storage rooms.
In August of 1999 Harvest Time received final zoning approval for our church building. Our property had been on the market for over 30 years; during that time 22 other proposed projects for the site had been rejected by the Town. In October 1999 the purchase of 1338 King Street was finalized and we began to prepare for development. When the costs of purchasing the land, developing it and constructing the building were tallied, it became apparent that we needed to break the project down into more manageable phases. Working with our design professionals, a plan was devised to build the education wing first and save the construction of the sanctuary and foyer for a later time. The upper level of the education wing was modified to create a 5,000 square foot sanctuary and offices. Temporary classrooms were located in the lower level with the hopes that more land could be acquired before it was time to build again. This building was dubbed "Phase 1."
Construction on Phase 1 began in 2001 and was completed late in 2003 just in time for Harvest Time to celebrate our 20th Anniversary. In spite of one of the worst snow storms ever in December, it was a great celebration. Finishing touches were put on the building and we moved permanently into our new home in February of 2004.
Over the next five years our congregation experienced explosive growth. Our mid-week discipleship programs were expanded to three weeknights to accommodate the growing number of participants. A Spanish congregation was launched in 2005. An air dome was erected in 2007 to accommodate our growing youth group, and a third Sunday morning was added to accommodate our growing worship attendance.
During that time, God was not only working in our congregation, He was also working on our behalf. Remarkably, the Greenwich zoning regulations changed in our favor: finished basement rooms no longer count against the square footage limitations. This means that instead of being limited to 28,500 square feet, we can now build a facility of 57,000 square feet without purchasing any additional land! Had we built the original 28,500 square foot building, we would have already outgrown the sanctuary and would not have the option to develop basement space under it.
In the spring of 2008 we gathered our professional team once again and began work on Phase 2. Using the same footprint and exterior that the Town of Greenwich approved 10 years ago, our designers altered the sanctuary seating plan to accommodate 1,000 worshippers. The new atrium foyer has waterfalls that draw worshippers down staircases to the lower level fellowship mall, café, bookstore and an abundance of new classrooms. Phase 2 has tripled the size of our church facility overall. The area for ministry to children and teens has increased by 5x from our present 5,000 square feet to 25,000 square feet.
Thanking God, we joyfully dedicated our new facility in the Fall of 2018!