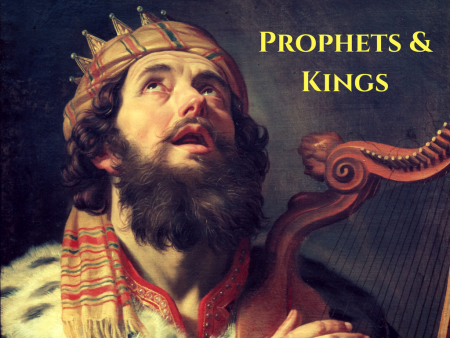 PROPHETS AND KINGS is a verse-by-verse study in the Books of 1st and 2nd Samuel, taught by Pastor Nick.
Class meets on Wednesday evenings at 7 PM in the Sanctuary.
There's also a time of worship and the opportunity to receive personal ministry. Join us for good fellowship and in-depth study of God's Word!
Class notes and audio are below the embedded map. Class notes will open in new tab. Teachings also appear in our weekly church podcast.


SESSION 40: A KINGDOM OF KINDNESS: 2 Sam. 9, 10 (October 17, 2018)
Audio File
Class Notes
SESSION 39: THE HOUSE OF DAVID: 2 Sam. 7, 8 (October 10, 2018)
Audio File
Class Notes
SESSION 38: BRINGING UP THE ARK: 2 Sam. 6 (October 3, 2018)
Audio File
Class Notes
SESSION 37: KING OF ISRAEL: 2 Sam. 4, 5 (September 26, 2018)
Audio File
Class Notes
SESSION 36: MEETING KING DAVID: 2 Sam. 3 (September 19, 2018)
Audio File
Class Notes
SESSION 35: DAVID ANOINTED KING OF JUDAH: 2 Sam. 2:1 - 2 Sam. 3:1 (September 12, 2018)
Audio File
Class Notes

SESSION 34: HOW THE MIGHTY HAVE FALLEN: 1 Sam. 31 – 2 Sam. 1 (June 13, 2018)
Audio File
Class Notes
SESSION 33: THE LORD A FORTRESS IN ADVERSITY: Psalm 31 (June 6, 2018)
Audio File
Class Notes
SESSION 32: ZIKLAG: 1 Sam. 29-30 (May 30, 2018)
Audio File
Class Notes
SESSION 31: HEADING FOR DISASTER: 1 Sam. 27-28 (May 23, 2018)
Audio File
Class Notes
SESSION 30: A LAST ENCOUNTER: 1 Sam. 26 (May 16, 2018)
Audio File
Class Notes

SESSION 29: ABIGAIL: 1 Sam. 25 (May 9, 2018)
Audio File
Class Notes
SESSION 28: DAVID SPARES KING SAUL: 1 Sam. 24 (May 2, 2018)
Audio File
Class Notes
SESSION 27A: LEARNING TO HEAR AND SPEAK THE WORD OF THE LORD
(Supplement to Session 27 re: inquiring of the Lord)
Audio File
Class Notes
SESSION 27: DAVID EVADES CAPTURE: 1 Sam. 23 (April 25, 2018)
Audio File
Class Notes
SESSION 26: DAVID' S FLOCK BEGINS TO GROW: 1 Sam. 22 (April 18, 2018)
Audio File
Class Notes
SESSION 25: IN LOVE WITH THE WORD OF GOD: Psalm 119:9-16 (April 11, 2018)
Audio File
Class Notes
SESSION 24: DAVID IN GATH: 1 Sam. 21 (February 28, 2018)
Audio File
Class Notes
SESSION 23: DAVID GOES ON THE RUN: 1 Sam. 20 (February 21, 2018)
Audio File
Class Notes
SESSION 22: ESCAPING TO THE SCHOOL OF THE PROPHETS: 1 Sam. 19 (February 14, 2018)
Audio File
Class Notes
SESSION 21: ADVANCING IN WISDOM: 1 Sam. 18 (January 31, 2018)
Audio File
Class Notes
SESSION 20: DAVID'S VICTORY: 1 Sam. 17:12-58 (January 24, 2018)
Audio File
Class Notes

SESSION 19: THE CHALLENGE OF THE GIANT: 1 Sam. 17:1-11 (January 17, 2018)
Audio File
Class Notes

SESSION 18: DAVID IN THE COURT OF KING SAUL: 1 Sam. 16:1-23 (January 10, 2018)
Audio File
Class Notes

SESSION 17: A NEW BEGINNING: 1 Sam. 15:10-16:13 (December 6, 2017)
Audio File
Class Notes

SESSION 16: RASHNESS AND DISOBEDIENCE: 1 Sam. 14:31-15:13 (November 29, 2017)
Audio File
Class Notes

SESSION 15: COURAGE AND FOLLY: 1 Sam. 14:1-30 (November 15, 2017)
Audio File
Class Notes

SESSION 14: ISRAEL IN FEAR: 1 Sam. 13 (November 8, 2017)
Audio File
Class Notes

SESSION 13: A SOLEMN WARNING: 1 Sam. 12 (November 1, 2017)
Audio File
Class Notes

SESSION 12: JABESH GILEAD: 1 Sam. 11 (October 25, 2017)
Audio File
Class Notes
SESSION 11: A RELUCTANT LEADER: 1 Sam. 10 (October 18, 2017)
Audio File
Class Notes
SESSION 10: SAUL IS ANOINTED: 1 Sam. 9:1-10:1 (October 11, 2017)
Audio File
Class Notes

SESSION 9: LISTEN TO THEIR VOICE: 1 Sam. 8:1-22 (October 4, 2017)
Audio File
Class Notes

SESSION 8: RETURN TO THE LORD: 1 Sam. 6:20-7:17 (September 27, 2017)
Audio File
Class Notes

SESSION 7: WHO CAN STAND BEFORE HIM: 1 Sam. 5:1-6:21 (September 20, 2017)
Audio File
Class Notes

SESSION 6: CATASTROPHE IN ISRAEL: 1 Sam. 3:19-4:22 (September 13, 2017)
Audio File
Class Notes

SESSION 5: SAMUEL ESTABLISHED AS A PROPHET: 1 Sam. 3:1-4:1 (May 24, 2017)
Audio File
Class Notes

SESSION 4: CONTRASTS: 1 Sam. 2:12-36 (May 17, 2017)
Audio File
Class Notes
SESSION 3: A BABY AND A SONG: 1 Sam. 1:20-2:11 (May 10, 2017)
Audio File
Class Notes

SESSION 2: HANNAH'S PRAYERS AND VOWS: 1 Sam. 1:7-19 (May 3, 2017)
Audio File
Class Notes

SESSION 1: INTRODUCTION; HANNAH'S GRIEF: 1 Sam. 1:1-7 (April 26, 2017)
Audio File
Class Notes