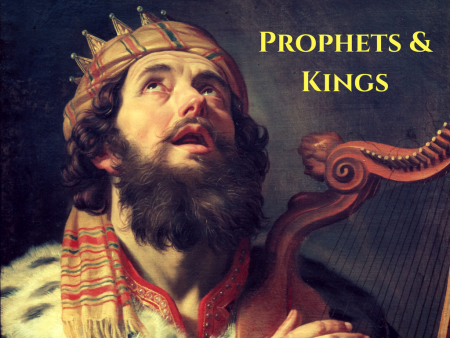 PROPHETS AND KINGS is a verse-by-verse study in the 1st and 2nd Samuel.
Class currently meets Wednesday evenings at 7 PM at Sacred Heart School, 1177 King Street, Greenwich.
Class will not meet again until January 10, 2018.
Class notes and audio are below the embedded map. Teachings also appear in our weekly church podcast.


SESSION 17: A NEW BEGINNING: 1 Sam. 15:10-16:13 (December 6, 2017)
Audio File
Class Notes

SESSION 16: RASHNESS AND DISOBEDIENCE: 1 Sam. 14:31-15:13 (November 29, 2017)
Audio File
Class Notes

SESSION 15: COURAGE AND FOLLY: 1 Sam. 14:1-30 (November 15, 2017)
Audio File
Class Notes

SESSION 14: ISRAEL IN FEAR: 1 Sam. 13 (November 8, 2017)
Audio File
Class Notes

SESSION 13: A SOLEMN WARNING: 1 Sam. 12 (November 1, 2017)
Audio File
Class Notes

SESSION 12: JABESH GILEAD: 1 Sam. 11 (October 25, 2017)
Audio File
Class Notes
SESSION 11: A RELUCTANT LEADER: 1 Sam. 10 (October 18, 2017)
Audio File
Class Notes
SESSION 10: SAUL IS ANOINTED: 1 Sam. 9:1-10:1 (October 11, 2017)
Audio File
Class Notes

SESSION 9: LISTEN TO THEIR VOICE: 1 Sam. 8:1-22 (October 4, 2017)
Audio File
Class Notes

SESSION 8: RETURN TO THE LORD: 1 Sam. 6:20-7:17 (September 27, 2017)
Audio File
Class Notes

SESSION 7: WHO CAN STAND BEFORE HIM: 1 Sam. 5:1-6:21 (September 20, 2017)
Audio File
Class Notes

SESSION 6: CATASTROPHE IN ISRAEL: 1 Sam. 3:19-4:22 (September 13, 2017)
Audio File
Class Notes

SESSION 5: SAMUEL ESTABLISHED AS A PROPHET: 1 Sam. 3:1-4:1 (May 24, 2017)
Audio File
Class Notes

SESSION 4: CONTRASTS: 1 Sam. 2:12-36 (May 17, 2017)
Audio File
Class Notes
SESSION 3: A BABY AND A SONG: 1 Sam. 1:20-2:11 (May 10, 2017)
Audio File
Class Notes

SESSION 2: HANNAH'S PRAYERS AND VOWS: 1 Sam. 1:7-19 (May 3, 2017)
Audio File
Class Notes

SESSION 1: INTRODUCTION; HANNAH'S GRIEF: 1 Sam. 1:1-7 (April 26, 2017)
Audio File
Class Notes