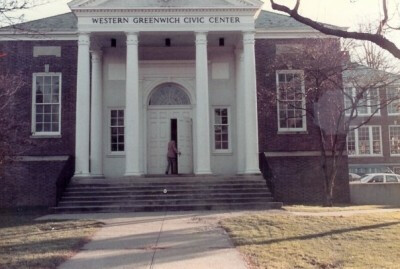 Western Greenwich Civic Center before its renovation
Harvest Time Church International began in December 1983, when Rev. Ray and Patti Tate moved to Greenwich to plant a Spirit-filled church. The Tates left a Youth Pastorate in Wyckoff, New Jersey to found Harvest Time in cooperation with the Southern New England District of the Assemblies of God. The first service was held at the Greenwich YMCA on Christmas Eve 1983, with six people attending.
During the first six months, our fledgling congregation outgrew the small rented room at the YMCA, reaching a Sunday attendance of more than 60 people. On weekdays Bible studies and prayer meetings were held in member's homes and the church family shared fellowship dinners almost every Sunday afternoon. Late in 1984 we moved to rented space at the Western Greenwich Civic Center where we continued to experience rapid growth. By the end of the first year, Sunday worship attendance exceeded 100 people.
During the next decade, Sunday attendance reached more than 300 people. A second Sunday morning worship service was added to accommodate the growth. Each week volunteers arrived at 7:00 a.m. to set up 250 metal folding chairs, platforms and sound equipment. Sunday School teachers carried curriculum and supplies to their rooms in plastic totes. Pastor Tate was joined by an Assistant Pastor, Youth Pastor, Music Minister and office staff. The team worked in close quarters as they shared a one room office.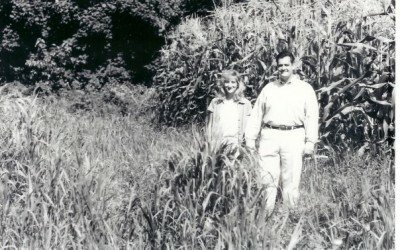 The Harvisons on site at 1338 King Street before the construction of Phase 1
In 1996 Rev. Glenn and Denise Harvison moved from Springfield, Missouri to join the Harvest Time staff. Glenn served as Associate Pastor from 1996-1998; Denise served as the Christian Education Director from 1996-1999. In January 1999, Glenn became the Senior Pastor after Ray Tate moved to a new pastorate. From 1999-2004 Glenn and Denise led the congregation through a $6.5 million property acquisition and building program. In February 2004, we moved into our Phase 1 building at 1338 King Street. Future plans include the acquisition of additional land and the construction of two more phases. In 2003 Glenn was joined by Associate Pastor Nick Uva. In 2006, Steven and Caren Petfield joined our staff as our Children's Pastors.
Today Harvest Time still bears the distinguishing marks of our early days and founding Pastor:
Harvest Time is evangelistic. Taken from the words of Jesus in John 4:35, our name communicates our vision. We believe that people across this region are ready to hear the transforming message of God's love through Jesus Christ. Through vehicles like The Alpha Course and Family Life Night, people continue to find Jesus as their Savior and Lord.
Harvest Time is a Spirit-filled church. Harvest Time was planted in Greenwich specifically because there was no other Spirit-filled congregation here at the time. We believe that the Baptism of the Holy Spirit with the evidence of speaking in other tongues is available for all Christians. We believe in the relevance of the Gifts of the Spirit and are careful not to quench His moving among us. We believe that the Holy Spirit gives guidance for His people.
Harvest Time is strategically positioned in Greenwich. Although Harvest Time's reach stretches across our entire region - people come from as far as Bridgeport, Brewster and the Bronx - we believe that God has strategically placed us in Greenwich. From our platform in the Northwest corner of Greenwich, we are called to influence our city and region.
Harvest Time is a loving church. Perhaps Ray and Patti Tate's deepest imprint on Harvest Time is the deeply loving character of our congregation. Genuine care and affection pervade the atmosphere of our church. Visitors and newcomers constantly remark about the warmth they feel from the first moment.
Harvest Time is on the way to becoming a large church. From the beginning Ray Tate felt that Harvest Time would someday grow to be larger than 1,000 people. In faith, we are building a Phase 2 sanctuary that will seat that many.